How do i tell what model my iPhone / iPad / Apple watch is? Follow
If you have a device but dont know or are unsure of the model of device, there are a few ways to tell.
Phones and Tablets
On any device you have that is functional, you simply need to navigate the settings app on your phone.
Settings > General > About
Once you are on the "About" menu, you will see a field called "Model Name, this will tell you the model of your device. Phones and Tablets also come with storage option. So on the same page if you scroll down to "Capacity" this will tell you what storage your model is.
If your device is rest to factory settings you simply need to tap the " i " option on the bottom right hand of the screen and find your model number. This will start with an "A" followed by 4 digits. Then simply follow the steps in the "Alternative Options" section below to find the model.
Apple Watch
For Apple watches the easiest way to tell the model of watch is on the back of the watch. It will tell your the "series" of watch you have and if it is a GPS only or GPS + Cellular variant.
Alternative Options
The model number of your is located on the back of your most devices (see photo below) and you simply need to good that 'A' number.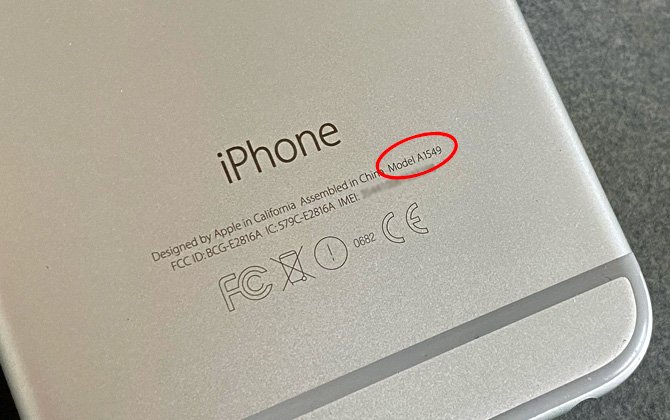 However for newer devices it can only be found in the settings menu under "About" or on the original box. Simply match the model number on the link above to identify the right model you are selling. If you are still having issues you can get in touch with our staff by submitting and enquiry in the help centre.
iPhones ---> Click the link
iPads ---> Click the link
iPhones ---> Click the link